Benefits of Membership
IBAT is proud to offer membership benefits for banks and companies that support Texas community banking. Not a member? Reach out to our team via the Inquire buttons below.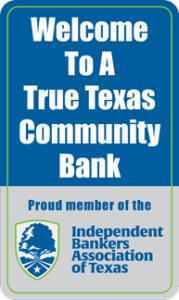 IBAT believes that every community bank in Texas needs to be recognized and showcased for the work they do for their communities. We started the "True Texas Community Bank" decal program 10 years ago and have been distributing window and ATM decals to all member banks and their branches since. 
We hope you're as proud of being a True Texas Community (and IBAT) Bank as we are. We encourage you to take advantage of this complimentary member offer and submit an order to Darlene Revers to receive your decals. Please include the number of decals and the address to ship them to in your email.
Proudly display them on your bank doors, windows and ATMs.
"We are Texas Community Banking."
IBAT Associate Member Council
The IBAT Associate Member Council was established primarily to represent IBAT associate members and serve as a resource for them, as well as bank members and IBAT staff. The Council serves as a bridge between IBAT member companies and member banks and is instrumental in creating win-win situations between the two groups. Learn more.