Community Banker University
Expanded educational offerings powered by ICBA
In collaboration with ICBA's education department, Community Bank University (CBU), certification programs, seminars, online training, and a host of resources are now available on our website, making it easier for you to find needed education. The new Affiliate Education Program will ensure that collectively, we put community banks in contact with the training tools necessary to grow bankers' knowledge and skills. 
Additionally, the program will also support IBAT: for every ICBA training course, seminar, event registration and resource purchased, ICBA will donate 10 percent of eligible purchases to IBAT.
Let's all win by increasing knowledge, improving efficiency, and investing in our employees while working together to uplift the industry we love—community banking!

Use This Code When Registering: TX-IBAT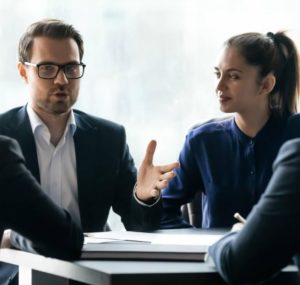 This four-day virtual conference focuses on key issues and trends related to auditing, BSA/AML, regulatory compliance, security and fraud, and offers the very latest information, tools, best practices, and training to assure that you are up-to-date and compliant. Attend one day or all four!
Virtual : September 25 – September 28, 2023
Live (San Antonio, TX) : October 23 – October 26, 2023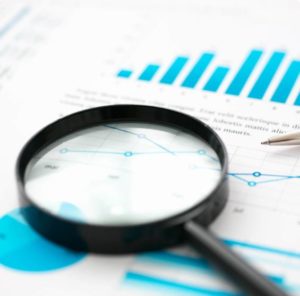 Retail wars, digital transformation, and customer demand are dramatically changing the landscape of community banking. To succeed in the competitive marketplace, community bank marketers and retail teams must be savvy, forward-thinking, and implement game-changing strategies.
Live (Nashville, TN) : September 20 – September 22, 2023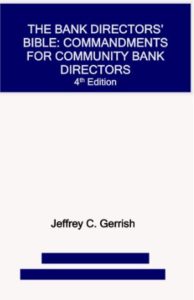 The Bank Directors' Bible (4th Edition, 2023) provides industry best practices, insights into issues encountered by community bank directors in today's environment and how to effectively serve on community bank boards of all sizes.
Bank Director Glossary includes more than 200 pages of customary terms used by regulators, executive officers, industry consultants, and attorneys. Presented alphabetically with clear and to the point definitions, this valuable reference guide is a must have for any community bank director or officer.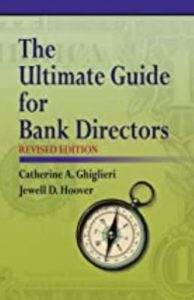 Ultimate Guide for Bank Directors
The Ultimate Guide for Bank Directors provides bank directors with the knowledge and insight necessary for performing their fiduciary responsibilities conscientiously and effectively. This is a must read for every board member or bank executive aspiring to become a director.